Art Journaling is a hobby that I've returned to recently as an exercise to balance out all the time I spend at the computer with some creativity that actually gets my hands dirty.
My art Journaling Principles:
I try to keep everything in my art journal original and/or up-cycled. I use my usual art supplies, cutouts from my own artworks, stamps and stencils that I made myself, and materials that might usually go in the trash (receipts, clothing tags, junk mail, packaging, fallen leaves, etc.).

I don't limit myself to positive or inspirational sentiments or themes. Some days feel crappy and trying to journal happy thoughts would be unauthentic.

All my pages are unplanned & un-sketched. This is what makes it relaxing and fun for me. I just grab materials and create.
Page from Friday, Jan. 3rd: "More, More, More"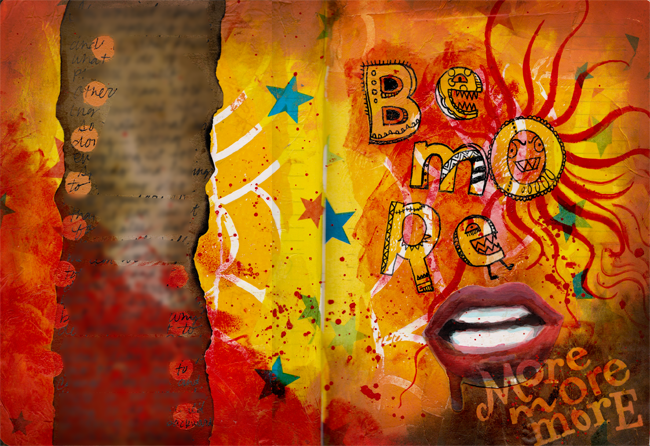 Materials Used:
Torn strips of one of my gel prints and tissue leftover from xmas gift wrap, decoupage, glue stick, dye ink & acrylic ink, acrylic paint, a makeup sponge, brown paper packaging, fire, letter cutouts (as masks), cutout lips from an old watercolor painting, paintbrushes, a drawing pen, circle stencils made with an old file folder.
Details