Music and art seem to be very powerfully tied together. I've found that what I listen to while I work has a strong effect on the mood of my work and the enjoyment of the process. These are the albums that have played most often during my painting (and drawing, and general creating) sessions over the years.
My criteria for a good album to paint to:
A. It has to be good
all the way through
. There can't be that one song I want to skip past, because I'm not setting my paintbrush down to futz with my music controls.
B. It's got to have thought provoking lyrics, because once I get deep into painting, it becomes very automatic and then my brain gets bored and I end up goofing off narrating what I'm doing like I'm Bob Ross or something. Lyrics that I can think about help me stay on task.
C. It's got to be very relatable. I like all kinds of genres of music, but when I'm painting, I want music that evokes
personal
feelings, and that just wouldn't happen if I was listening to gangsta rap or something like that. So, I look for musicians that I feel a certain kind of kinship with.
The List:
1. Oingo Boingo // Dark at the End of the Tunnel (1990)
Album Cover Art by Peter Zokosky
Oingo Boingo is pretty much my favorite band ever, and this album, although it is one of their least popular, is a favorite of mine for both painting and cheering me up on a bad day. (Despite the pessimistic-sounding title, there's a theme of optimism that runs thought the whole album. It's like a musical bear hug.)
2. Cowboy Junkies // Pale Sun Crescent Moon (1993)
Album Cover Art by
Juan Sanchez Cotan
This is just a very down-to-earth album. "Cold Tea Blues" is my favorite track.
3. Neko Case // Fox Confessor Brings the Flood (2006)
Album Cover Art by Julie Morstad
Neko is way up on the list of my favorite musicians and all-around awesome human beings. This album wins my favorite of hers to paint to because it's got a very consistent mood and pace throughout.
4. The Cure // Pornography (1982)
Album Cover Artwork by Michael Kostiff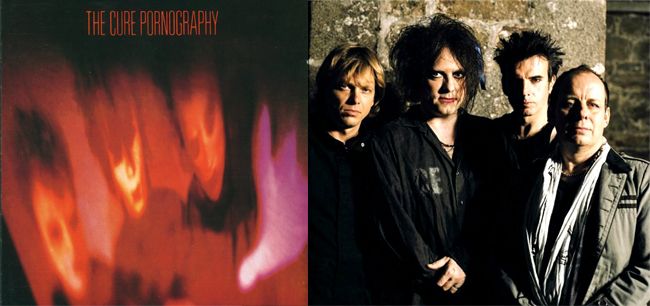 This is a very, very dark and moody album. I save it for those painting sessions when I'm working out some complex emotional stuff.
5. Sublime // 40 0z. to Freedom (1992)
Album Cover Art by Opie Ortiz
I have had this album since it was fairly new. First on tape, then CD, then MP3...and it has been in pretty constant rotation the whole time... seriously, for like 20 years (Feeling oldoldoldbadbadstopthinkingaboutit!) It is the definitive album for me when it comes to general "chill out" music.
6. Echo and the Bunnymen // Ocean Rain (1984)
Album Cover Art by Martyn Atkins and Brian Griffin
Such a
pretty
album. It makes flower petals float out of my heart and stuff. If you can listen to this without
at least
getting goosebumps, check your pulse. You might be dead.
7. Peter Murphy// Wild Birds (Compilation of 1985-1995 tracks, released in 2000)
Another super pretty album. And I love Peter Murphy's voice. He should read me bedtime stories.
8. Beach House// Teen Dream (2010)
Even though this album is much newer than the others on this list, I've probably listened to it just as much as the ones I've had decades with. I like all their albums, but this one is my favorite as a whole... I think.
Devotion
comes in at a really close second. I'm listening to this one right now.
Also, I love the low-contrast album art on this one so much that I bought a shirt just because it reminded me of it.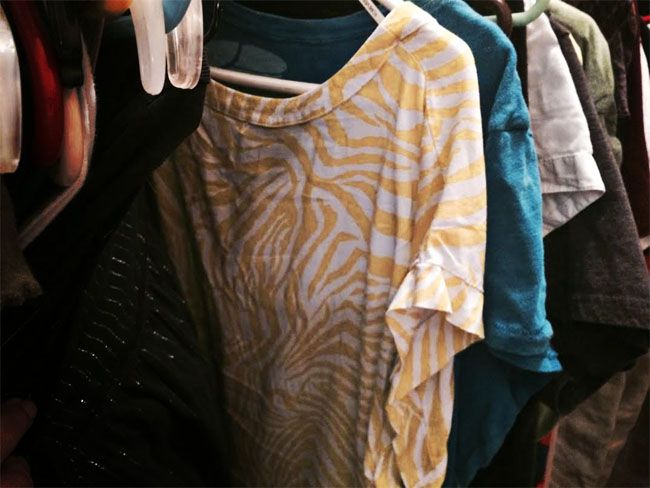 My "Teen Dream" Shirt
9. The Magnetic Fields// Distortion (2008)
Album Cover Art by Evan Gaffney
This was an experimental album for The Magnetic Field. It's a little different than their others. But, I like it for having all the awesomeness of The Magnetic Fields, but being less likely to make me cry, which is something that Stephin Merritt (lyricist) has a knack at doing.
10. Yeah Yeah Yeahs//Fever to Tell (2003)
Album cover art by Cody Critcheloe
This one's for
messy
painting, because it's very hard to listen to without dancing- or at least flailing about.
I feel bad that a lot of my favorite more recent albums got left out because of the "most listened to" criteria I set for this post, so I may have to do another one of these for "listening to
lately
".
If anyone has any music suggestions based off what you now know about my taste, please do share in the comments!