I can't believe how incredibly
impossible
it's been lately to get myself to sit long enough to write a post. So much going on.
Guess what. The art journal that I've been sharing spreads from since the beginning of the year is FULL.
Seriously
full. It's actually kind of rare that I finish any art journal/ sketchbook/ journal to the last page, so it's cause to be proud. Plus, the the feeling of this big, fat, crammed-full book that I put my guts into is
SO
great. That feeling alone should be reason enough for anyone to start art journaling.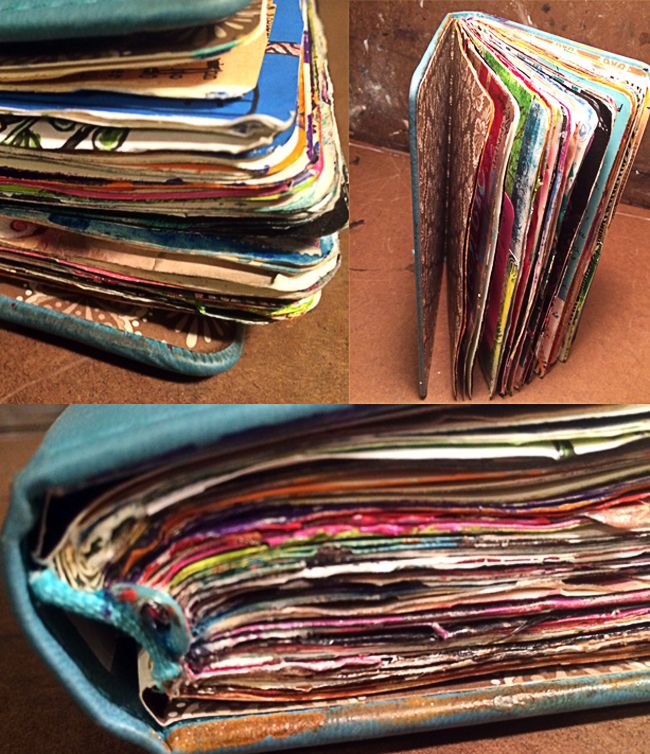 So, next I will be working in two journals simultaneously. These both started out as books. The smaller one was my day planner from 2010, and the larger was my college physics lab workbook. I figured since I collage or paint on every page, I may as well upcycle some old books instead of buying a new blank book.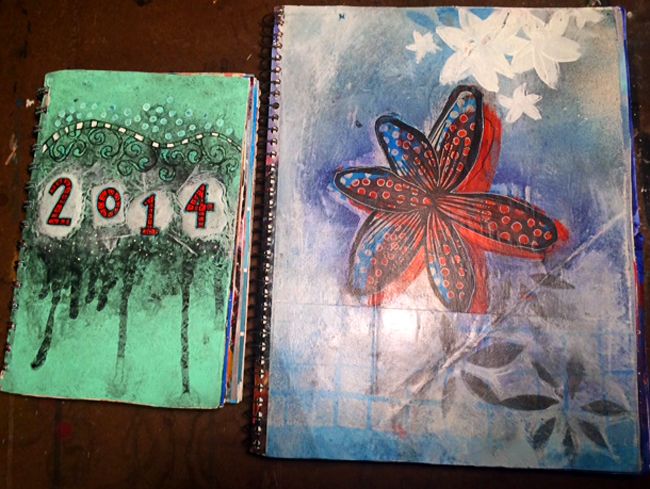 The cover of the big one isn't quite finished yet. If you recognize that big flower, it's because I drew it for my
Tropica series of digi-papers
. It's also on some products in my shop now.
I love the way that pattern looks on the ornaments, especially, and it's giving me ideas for a tropical-themed Christmas tree this year, with floral leis as garlands, and some little hula girls, and like...a big pineapple on top! But, it's February, so maybe I'm getting ahead of myself. And seriously off-track. What was I talking about?
Oh yeah, art journals. So, why 2 journals? Well, other than the obvious reason that my
whole life
is about trying to do more stuff than 24 hours in a day allows, they serve 2 different purposes. The little one is my regular "I did this and that today" type journal, and the big one is to accompany a couple "self-help" type workbooks that have been on my shelf for far too long. I've copied the worksheets from both books to collage into my journal, and I've been taking notes and illustrating key points as I read.
Also,
29 Faces Project!
I have NOT abandoned it! There are some faces in the art journal pages that I'll count toward my 29, as well as a few extra that'll be at the end of this post. Stay with me.
Here's a closer look at the cover of my new "everyday" art journal.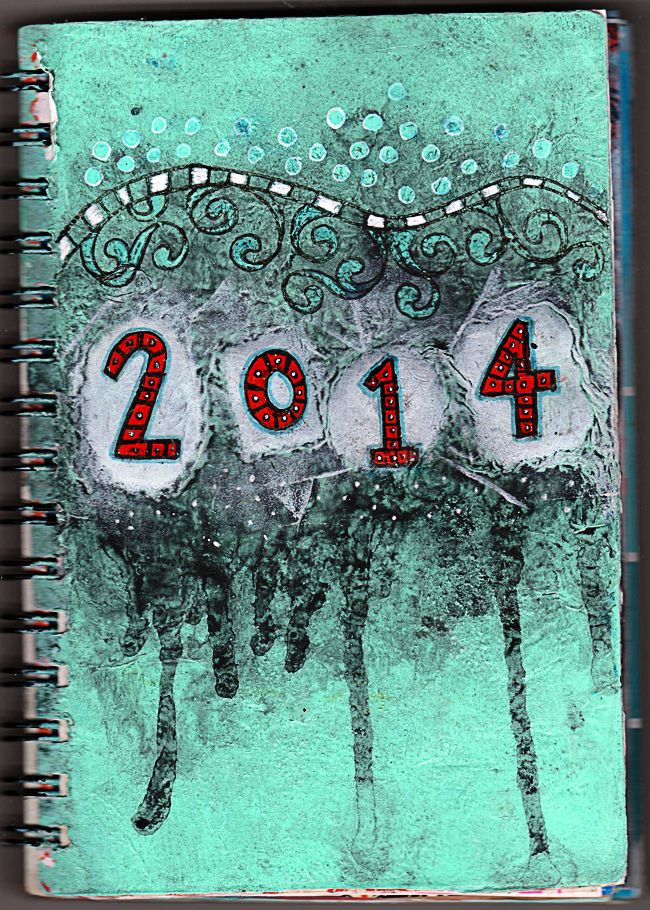 Materials/Process
: I found some old puffy stickers that said stuff about weddings and babies on them. I knew I'd never use them for their intended purpose, so I decided to use them just for their dimension/shape. I stuck them down and then used matte
Mod Podge
and plain white tissue to texture the whole page and encapsulate the stickers.Then I painted the whole thing with mint craft paint. When that dried I used some watered down black acrylic paint in a spray bottle and allowed it to drip. Then I used gesso on a makeup sponge to highlight the raised stickers. I hand-painted the "2014" in red, and then added details and more drawing in
Sakura Pigma Graphic 1
pen (My recent favorite pen, since it stands up to a lot of my abuse) and white gel pen. For the dots on the top, I used a
colorless Tombow marker
to "erase" spots of the black (this is not the purpose of these pens, and I don't suggest it if you want to preserve them. I just happened to have an old one. A Q-tip dipped in rubbing alcohol might work similarly.), and then I used the gel pen to circle each spot.
First page!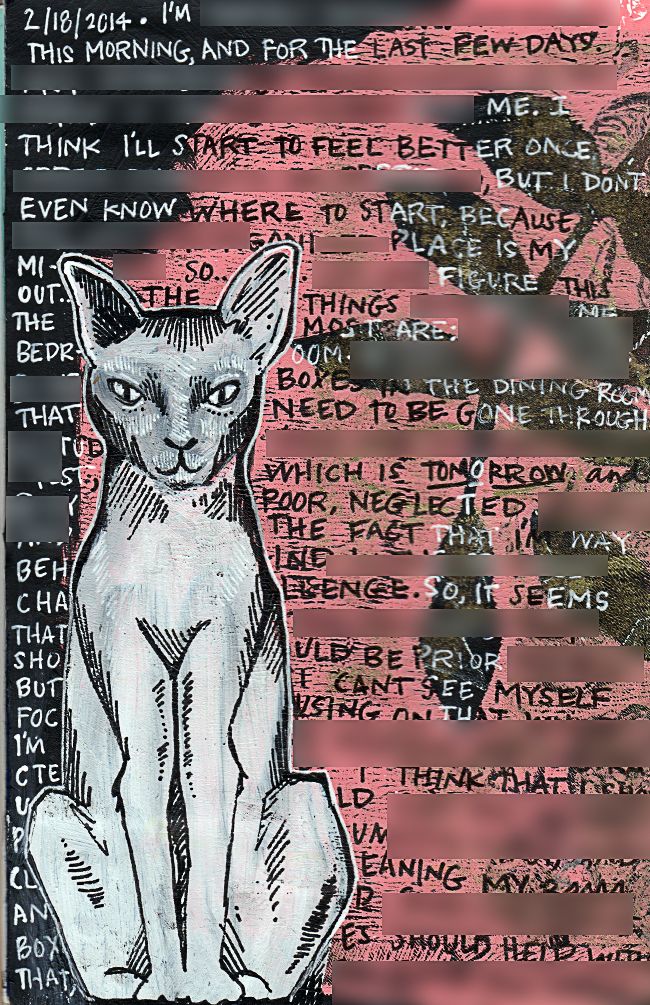 This kitty's face serves as my face # 13.
Materials
: One of my
gelli prints
, gesso,
Sakura Pigma Graphic 1
pen, white gel pen.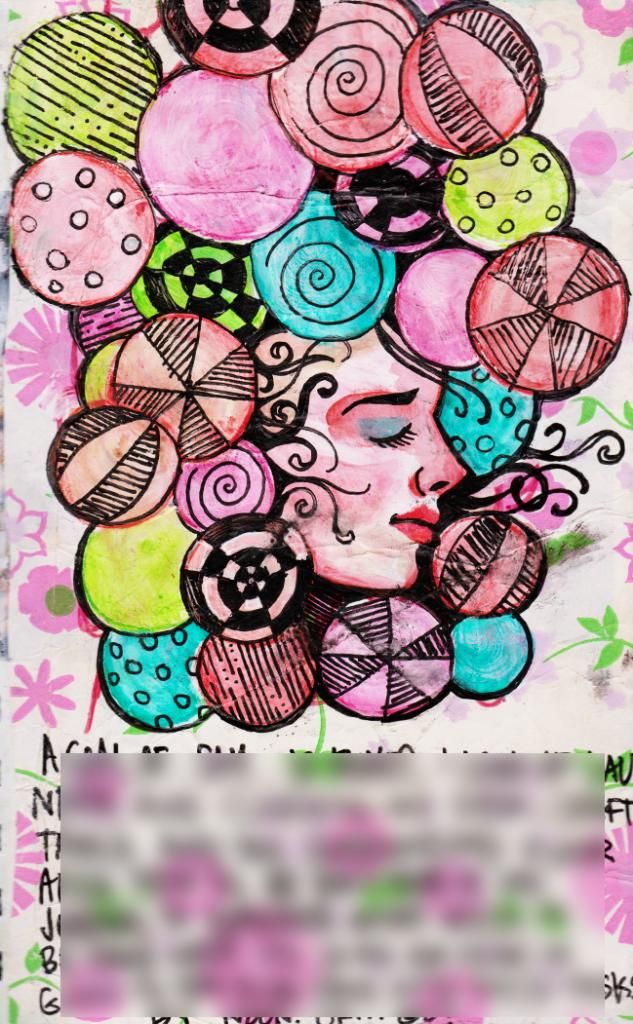 Face #14
Materials/Process
: Vintage wrapping paper, gesso, Inktense pencils, water brush pen,
Graphic 1
pen.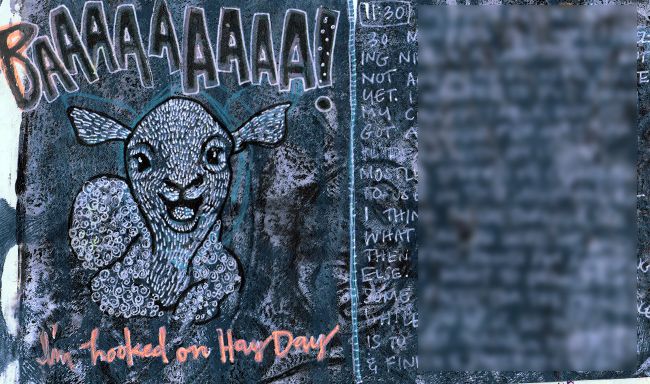 Face #15
Anyone else hooked on the Hay Day app? I figure it's OK that I'm letting it waste hours of every day, since I managed to skip that whole Facebook Farmville craze years ago.
Materials: Gelli print,
Graphic 1
pen, white gel pen, neon
Sharpie paint markers.
Lastly, here's face's 16, 17 and 18. All 3 were done in pencil, and 16 and 17 I live-traced and colored in Illustrator.